We actually use Earth Week every year to assess how we are doing as far as being green goes, and what things we want to focus on in the upcoming years. I've found that it is hard to do everything at once, no different than going on a diet, but if you incorporate little things at a time, you don't have to resort to draconian measures, like Sheryl Crow using one square, ick!
Some things from the past year or two:
We invested in 20 cloth napkins, at $1 a piece, for every day use. I always tell people "they're not just for pretty."
Sounds silly, but we repurposed an old wastebasket to be the upstairs recycle bin. Who wants to fish through the bathroom trash to pull out shampoo bottles and toilet paper rolls?
We've stepped up, and are outgrowing our compost area. So we are thinking about one of those big bamboo composters.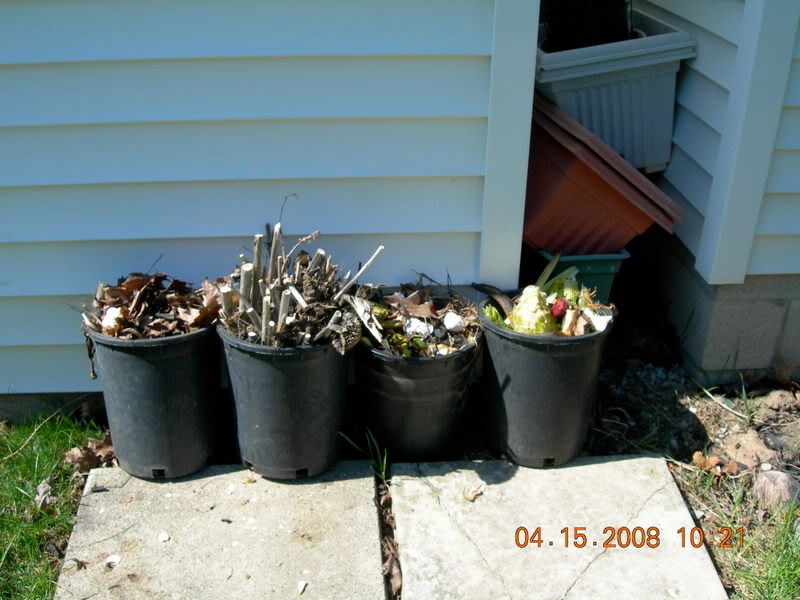 And we'll have a place to put the composter now that my dream will come true and we will finally have a proper veggie garden!
Another small thing to file under "reduce" ---did you know that you don't actually have to put your produce in a plastic bag? They are happy to sell it to you au naturel.
Also, if you get yourself a few reusable grocery bags, you can just toss your unpackaged produce right in to keep loose apples together until you check out. (Also note my stylish, Folgers indoor compost area. Rachael Ray will sell me a scrap bowl for ten bucks, hah!)
Got more into the "pre-loved clothing scene. In this photo, see if you can spot the child's garment that was paid full price for. Everything else you see was either purchased at a thrift or pre-owned clothing store, a yard sale, or given to me by a friend or relative. In fact, two of the items were purchased by my mother from the thrift store, worn by my nephew, then handed on to my boys.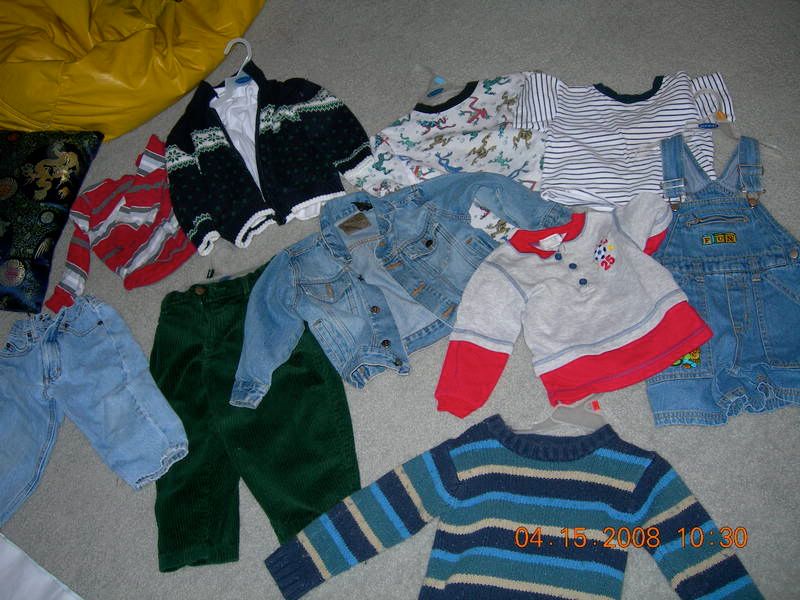 This item was the new purchase, from Old Navy. It was worn twice, then pilled very badly after the first wash. Neither boy ever wanted to wear it because it was itchy. At least it was bought at a discount...I think it was a for a cold Easter that I bought it.
Speaking of pre-loved, I am finally able to fit into most of my collection of vintage day dresses again!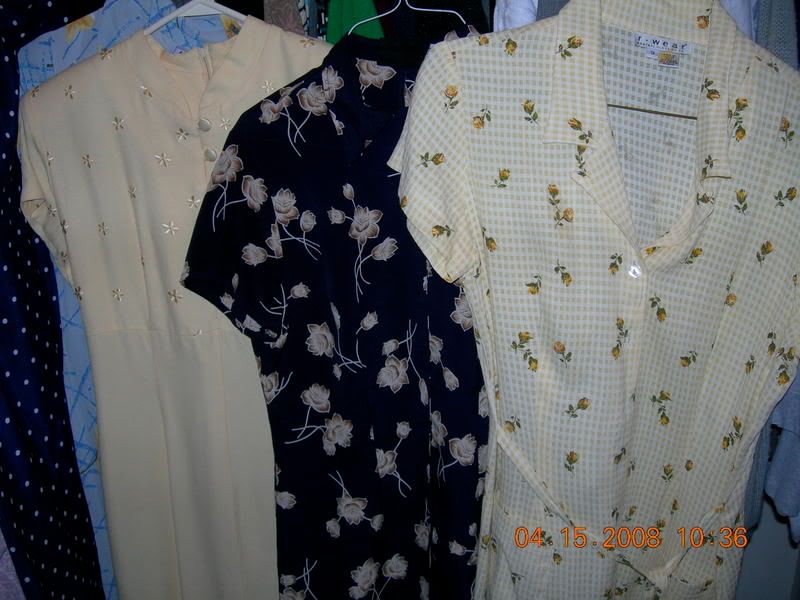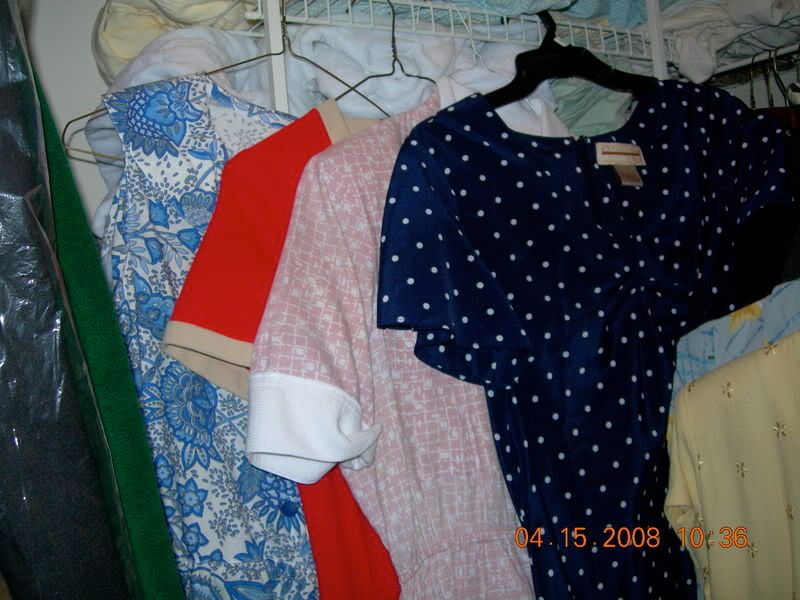 Some other things we accomplished this year were to get our weekly trash output to about one full bag, including diapers. We considered doing the cloth, but not really, because our laundry is right next to the kitchen. Also last year we congratulated ourselves on always having so much in the recycle bin, till it dawned on us that maybe we could get that down too. So we've started buying more of our food in its purest form rather than overly packaged, which is good for our bodies as well as the planet. My biggest setback this year was falling into the buying of individually packaged stuff, like juice boxes, for the boys. Those things have their place, like trips to the pool and that, but I'm a stay-at-home-mom---I have the time to dish out the apple sauce.
I also want to learn more about green cleaning products. I plan on doing exhaustive testing on the wonders of vinegar according to Heloise this year! I tried Target's line of fluffy products before, and the multipurpose cleaner did nothing but create the illusion of a clean bathroom with the scent of lavender. I eventually gave up and bought some Comet. Well, here we go again!
Some other things to review in the upcoming year will be to price out some bigger projects like getting awnings on the house, ceiling fans, and new insulation.
The biggest challenge to any family is to change our habits: turning off the a/c and having dinner outside, taking reusable things when we are eating away from home (ie. cloth napkins and reusable containers of snacks to the pool) grouping our errands into one or two trips a week, not buying stuff for the fun of it, eating at home, that sort of thing. This year, unlike other years, there is a definite financial need too live life a little more simply.