1. Have a beautiful spread of food, like this:
2. Have an equally beautiful spread of dessert, like this: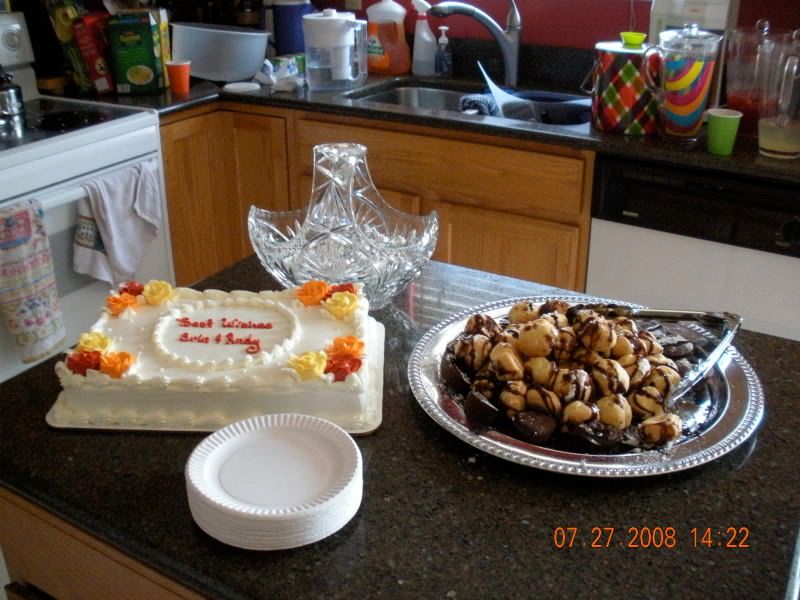 3. Have fun games, like this one: you mix a box of closed safety pins into a bowl of rice, and have your guests see how many they can fish out in 30 seconds, blindfolded. Very very difficult.
4. Cool refreshing beverages. I made fresh squeezed lemonade, iced tea, iced green tea w/ lemon, and I served pitchers of water w/ lemon and cucumber slices as well as punch, all in beautiful clear pitchers. I then gave the bride a couple of the pitchers on the condition that the next time either of us needs six pitchers, we can share. :-)
5. Have an absolutely awesome mother-of-the-groom who makes crazy fruit sculptures and delicious egg salad there. She will basically do everything and clean your house too!!!
6. Send the men and boys in your life to the National Air Force Museum for the day!
7. Don't make the guests play too many games.
8. Have someone write down the bride's comments as she's opening her gifts. At the end of the shower read them back to her saying legend has it these are the things she will say to the groom on the wedding night. Some of our bride's were things like "Aw, it's so cute!" and "I'm really not very good at this" and "maybe if it doesn't work we can use this one."
9. Have a lot of really cool and fun people over.
10. Have the sweetest, prettiest sister in town as the bride.