This has been the week of thematic eating in our house, largely due to the bounty of our garden. Today I was inspired by the abundance of kale out back, and the desire to make collard greens. So, I went through my fridge, pantry and garden and pulled this supper together: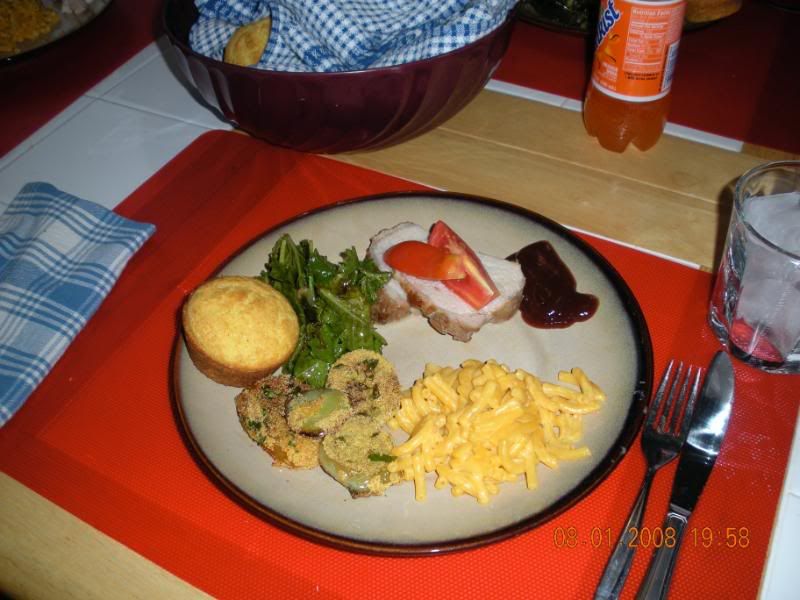 You have to call it supper, because it's definitely southern, or at least my take on it. We had fried green tomatoes (cause Nate can't keep his fingers off the tomato plants, lol) creamy mac and cheese, collard greens (sadly we had no bacon though so I did them in olive oil w/ a little garlic and onion, topped with cider vinegar) home made corn muffins (cause I already used up my last box of Jiffy) a couple slices of ripe tomato, and ideally I wanted bbq, but all I had in the freezer was a pork loin, and boy it was good! After Ken gets the boys to bed (he is happy to do this after such a meal) we are going to have mint juleps for a nightcap.
I never in my life dreamed that I would live this way. It seems so lush, doesn't it? But really, this is peasant life. Go out back and see what's to cook for dinner. Go to the pantry and see what you have too much of. Go to the fridge and see what's going to spoil if you don't eat it in a hurry. Dinner was such a wonderful experience tonight that Ken didn't even bug the guys too much about not trying this or that, and there was only one or two stern warnings to eat over their plates.
I didn't take a picture but I have to tell you our menu from Wednesday (I was too busy enjoying it.) The theme was "Tuscany" inspired by my possession of a hunk of mozzerella, a surplus of basil out back, and a bottle of good Italian Pinot Grigio:
-Traditional bruschetta (because I had a big bag of tiny sandwich bread left over from the shower) just a drizzle of olive oil and some salt
-Insalata Caprese (salad of tomato and mozerella slices, garnished with fresh basil and drizzled w/ olive oil. We like to add balsamic vinegar too.)
-herb roasted chicken (rosemary and thyme) on a bed of lemon-butter angelhair pasta, served with a side of garden veggies prima vera (zuccine, asparagus, peas, green beans, yellow wax beans and little tomatoes...there wasn't enough of any of these things for a whole serving, so I sauteed them in some olive oil.)
-Pinot Grigiot
-for dessert it was vanilla ice cream topped with a compote of blueberries that I had left over from Tuesday's blueberry pie (mmm, that's a whole other blog right there.)
Our interest in cooking as at least theoretically inspired the boys to learn to cook. Zack asked the other day if we could make our own
toques.
I didn't know what the heck he was talking about, but I guess he learned it from his Ratatouille game. I let them play with rice---keeps them occupied for hours!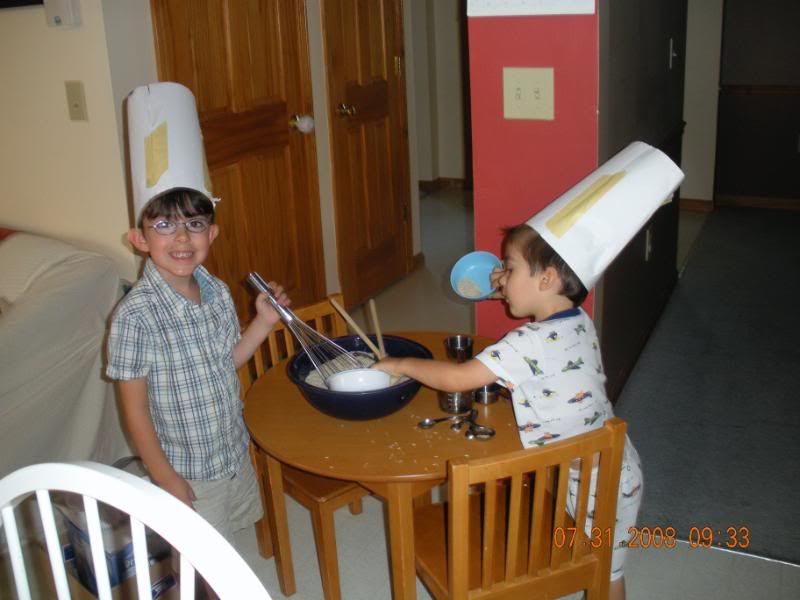 I feel happy. This is a good way to live. I'm already mentally plotting next year's garden!
I should also mention that as a backlash to all the work I've been doing lately, the ONLY thing I haven't been completely lazy about this week has been the kitchen. On a more philosophical note, I am reminded of Ecclesiastes, when he says: 24 A man can do nothing better than to eat and drink and find satisfaction in his work. This too, I see, is from the hand of God, 25 for without him, who can eat or find enjoyment? 26 To the man who pleases him, God gives wisdom, knowledge and happiness, but to the sinner he gives the task of gathering and storing up wealth to hand it over to the one who pleases God. This too is meaningless, a chasing after the wind." Bon apetite.