I finally got to use this idea I first read about in the "Tightwad Gazette" to make coloring "cookies" out of all your odds and ends of broken crayons. Today we are at home, school being canceled because of all the power outages in the area due to the crazy winds last night from the remnants of Ike.
Anyway, first you line an old muffin tin with foil. Only use a muffin tin you won't be eating out of again. For me I had a couple of disposable muffin tins that I've held onto for, well, I'm embarrassed to say how long I've actually owned them, but let's say they've done their bit for queen and country!
Then you throw in your bits of crayon with the wrappers removed. Put them in a 350 degree oven for about 10 minutes or so and let them cool. The neat thing is they really only took 10-15 minutes to cool off and be usable, so the kids didn't lose interest by the time I was done, as they often do with these things.
Before:
After: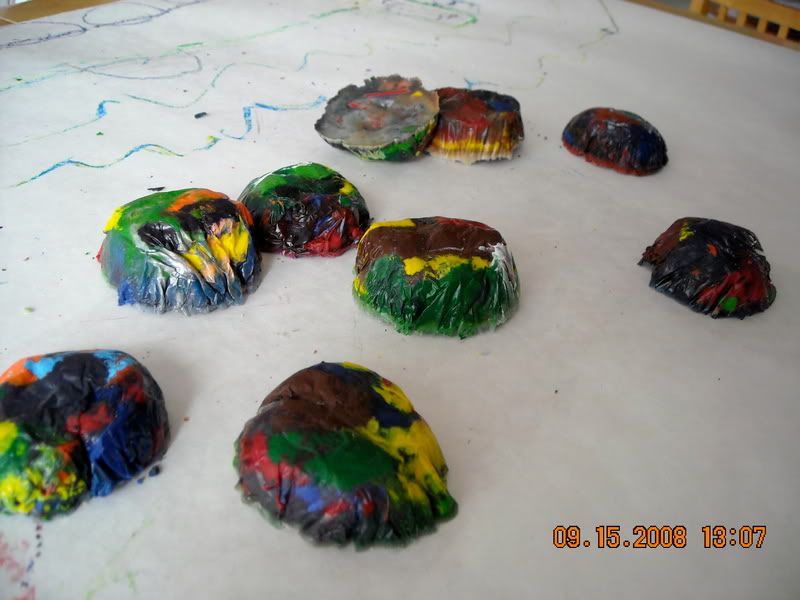 Also when doing this you can talk a little preschooler science with them by asking what do you think will happen to the crayons when they get hot? What will happen when they get cool? etc., and showing them the crayons at different stages, such as when they first get melty, when they are liquid coming out of the oven, and when they get hard again.