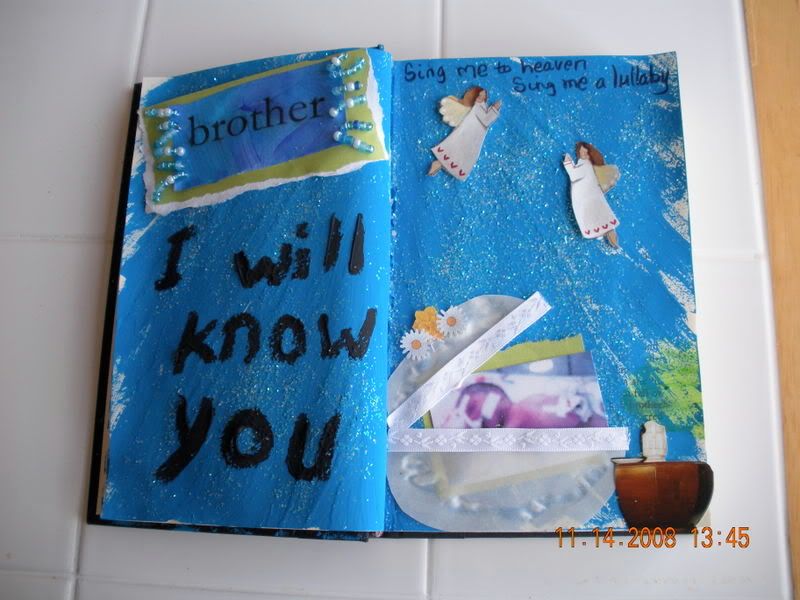 I took my first stab at altered book art this week. My first book I am calling "Angels and Saints" because of this synchronicity that I picked up on. My mom was always crazy about angels; she collect them, read stories about them, and you would never have seen her without an angel pin on her lapel. It only dawned on me later that it might have something to do with the fact that my sweet baby brother, who would have turned 30 today, is buried in the Garden of Angels out at Forest Lawn. It is a resting place for infants. Jerry only lived seven days. When my mom died, we found that, oddly, there were two plots left right near him, just on the other side of the path.
More synchronicity: I learned that the angel Gabriel is the patron saint of postal workers (Mom and Dad,) courier or delivery companies (Erin, Andy, and at one point Danny,) newspaper workers (Aunt Louise,) and even telecom employees (Ken!) So although I am pretty sure my mom was not aware of this, the angel Gabriel has been our patron for a long time! So I took this all as a theme for the book, in which I will do layouts and collage based on those I've loved and lost, as well as the angels and saints that I am learning about.
I enjoyed doing this. I've been struggling with this for 30 years, and somehow it is only visually that I can grasp the emotions that a six year old girl felt, all those years ago, at losing her much anticipated and much beloved baby brother. I bought this for my mom years ago because it looked like me and my first son, but it could have been her holding Jerry too; a thing she was never able to do. Thank goodness pediatric hospice has come a long way, and mothers are able to at least hold their little ones for a while before they go.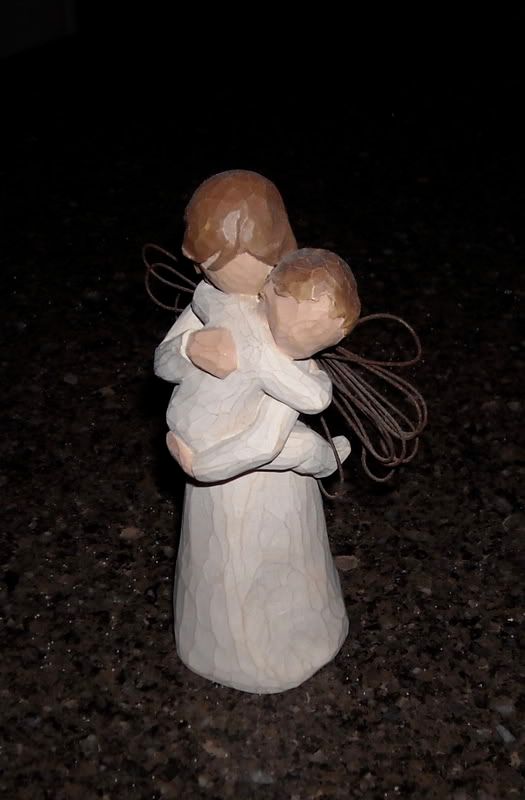 I hope you all have a good weekend; go on, wipe your eyes. Thanks, as always, for reading these little reveries of mine.